Hi Guys
Hope you're all well?
WOW! What a month it's been for Visible Image.....Craft stamper and Create & Craft plus another date for Create & Craft with some more new stamps :o) .....so mark this date on your calender July 21st at 2pm :D
Watch out for any news or changes on our
group page
, we welcome lots of new members of late we've had loads thanks to
Visible Image's
TV appearance!
We had some fab entries as always in our June challenge
Visible Image has Character
check out the winners
HERE
and don't forget we also have our 'Live, Laugh, Love' competition
HERE!
where you can win £20 worth of fabulous polymer stamps!
Our July Challenge is 'Inspired by a song' here on
our blog
.......come and have a look for some inspiration from our fabulous design team.......you don't have to use
Visible Image stamps
but you MUST use stamps, NO DIGI'S
Music for me is one of my passions.....I have a rather eclectic taste and like most genre's with the exceptions of punk, heavy rock and boom boom.....I hate that repetitive tripe!
When I was in my teens with my 2 older sisters....my eldest sister Elaine being a big Kate bush & Roy wood fan and middle sis Jan very into Northern Soul ( I much preferred this lol)......for me I was a huge disco fan(still am, it makes me happy) and a bit of a New Romantic......I did say eclectic lol!
I loved Spandau Ballet LOTS.......so much so I wriggled & squirmed my way to the very front at concerts and touched Martin Kemp (swoon!) and Tony Hadley.......don't think I ever screamed, not a screamer at all, although my better half thinks i'm like Catherine Tate's Margaret who screams at everyday things!
I just do it on purpose now ;o)
Anyway lol.........
TRUE by Spandau Ballet.......'ah, ha, ha, ha, ah, haaaaaar ......I know this much is truuuuuu ewwwww :D
My first ever play with
Edward
.....isn't he a dream......moody, mysterious and mean lol.....and he sooooo reminds me of a new romantic, all slick & stylish and eyes that pop.....
Molly
much prefers Edward <3
I coloured him with my promarkers and felt he needed the leopard print coat, rather dashing he looks too.
I then mounted this onto some black card which I heat embossed in 'heat it up silver' using the freebie grunge border from the July issue of
Craft Stamper
and heat embossed the Love stamp too also in primary ebony.
Matted and layered on to black card and silver mirror board from creata .
The dangly 'True' is from my treasure chest stash, along with the silver musical notes, the guitar was a wooden embelly from Hobbycraft which I heat embossed in 'heat it up black sparkle' & blinged it up, red rose is from my stash with the black gems & finally some black & silver ribbon to finish.
Hope you like my tag and can't wait to see your creations and good luck y'all
Thanks for dropping in :o)
Much Love
Suze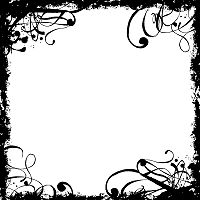 I would like to enter this into the following challenges :-