Hi Guys :D
It's 'Soozie Tooseday' my DT day for Visible Image
WOW! What a Truly AWESOME time it's been for my buddies Mark, Helen and Cheremane, they had a right time at Create & Craft and what a show it was on Saturday morning.....I was so proud of them, beaming with pride and honoured to be part of their team and my cards were on TV whoop whoop!
I hope everyone enjoyed it as much as I did and I hope they get the support they so truly deserve, great sets and a MUST for any stamper.
Don't forget we have 2 competitons running at the moment one on our
Facebook group page
where you must use the free Visible Image stamp from July's Craft stamper magazine the 'Live,Love,laugh' stamp and the winner gets to pick £20 worth of stamps!!!
The other competition is our June blog challenge
Visible Image stamps have character
you must use a stamp, no digi's and it has to be a character, not necessarily one of ours but it does double your chances!
The prize is £10 to spend on our amazing stamps.
For today's creation I was inspired by a technique showcased in July's
Craft Stamper Magazine
by Birgit Koopsen which involves layering embossing powders.
To achieve the look I wanted it wasn't as easy as I thought it would be, so I had a couple of attempts until I was happy :D
Now I've gone for my favourite colours again, I feel more at ease with these, especially for a technique I've never done before!
Now I'm a lover of heat embossing and an even huger LOVER of
Visible Image Stamps
so it makes me very happy when I combine them both :D
Here it is :-
For my border on the card I used the new amazingly fantastic border from the 'Jake skates set' heat embossing in
wow bright white
on some black card, then mounted this onto a 6 x 6 blank black card.
For my embossing powders I used 'Heat it up's' Silver tinsel, wow's
primary ebony
,
apple red
and
bright white
and with versamark covered my entire area and did stripes and some curved swirls using Birgit's technique, I then zapped with my heat gun and with a combination of staz on jet black ink and the powders I stamped using the AWESOME
Immortal Love
set, I adore this set.
I had the idea in my head of what I wanted to achieve with the barbed wire curving it I then used my heart dies and positioned on the black card using foam pads to give dimension
I hope you all like it and I'm rather chuffed with it, wasn't sure in the beginning if it was going to work but it turned out well in the end
Thanks for stopping by and check out all the FANTASTIC STAMPS at
VISIBLE IMAGE
You will not be sorry :D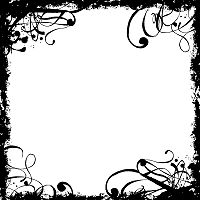 Much Love